Structured Cabling & Networking
PROVIDING BUSINESS PHONE SYSTEMS • STRUCTURED CABLING • CCTV SECURITY • PRODUCTIVITY TOOLS
$100 off labor by mentioning our site! Mention this promotion and we will give you 50% off of your Labor Bill up to $100 dollars. This promotion is for New Clients.
Reliable Voice & Data
Structured Cabling NYC
Reliable Voice and Data is here to provide your New York City and Long Island business with the best network cabling services available to improve your telecommunication infrastructure. We offer a variety of different services to help your company stay connected at all times. Consistent and effective communication is vital to the core functioning of any organization. We offer competitive rates, exceptional services and we utilize only the highest quality equipment. Our goal is to always meet and exceed your expectations.
Our Labor and Structured Cabling NYC Services Include: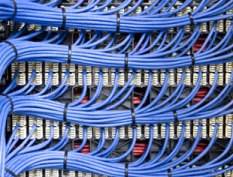 Patch panels
Paging
Video
Fiber optics
Cat 5e-6A installations
Structured cabling
Single or multi mode Fiber
Cabling certification & testing
Call Processing & Network Services:
VOIP/HOSTED (Voice Over IP)
SIP
Point to Point T1
MPLS (WAN multiple locations)
Wireless networks
Routers and managed switches
ISDN PRI
Reliable Voice and Data offers a free consultation for all the services you need. When it comes to computer network cabling, New York City companies need a provider they can depend on. We are proud to consistently deliver our dependable and trusted services. As the leading network cabling company in New York City, you can trust us to get the job done.
Contact Reliable Voice and Data
Contact us today to receive a free estimate. We deliver all work within budget and on time with 24 hour service availability. Call us at 1(800) 287-4500, today!
Photo Gallery